Kingswood Match Result 14/10/23
A good turnout of 22 anglers did battle at a rain swollen Kingswood. Gaz Johnson took spot on the day and further enhanced his reputation as a top Roach angler. Landing an awesome 35 Roach per hour from peg 48 he put a cracking 31lb 7oz on the scales.Bob Harris finished a close second with 30lb 12oz from peg 8 and blowing everyone away on the car park bank in the process. Method feeder fished in conjunction with pellet accounting for some nice Bream and Skimmers. The ever improving Dennis Kneller completed the frame from peg 29 with a creditable 22lb 9oz all falling to method feeder tactics.
Section Winners  .
Clive James.                  9lb 12oz.        (Peg 6)
John Burns.                    8lb 12oz.       (Peg 14)
Barry Wilcox.                  14oz 2oz.      (Peg 30)
Brian Ashley.                  17lb 9oz.       (Peg 47).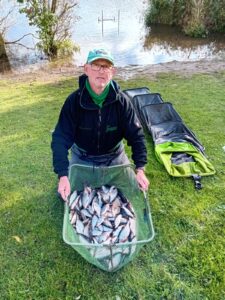 Gaz with his cracking bag of Roach.