Kingswood Carp Match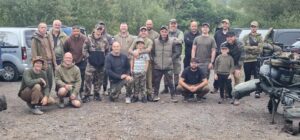 On Saturday 2nd September, Blackfords Progressive Angling Club held a 24 hour carp match. This was done on a trail basis to see how many anglers attended and how it would run. The pool was not officially closed and the better producing pegs were left out the match to make every angler have a chance of winning the competition, as well as to still offer members who didn't fish the match chance to fish the pool. Seventeen of our night sentinels and wardens attended the match. The Draw took place at eight o'clock on the Saturday morning and the match finished at half nine on the Sunday morning.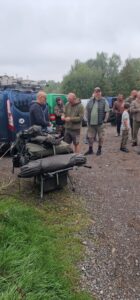 We had young anglers attending the match, fishing with fathers, which is always nice to see.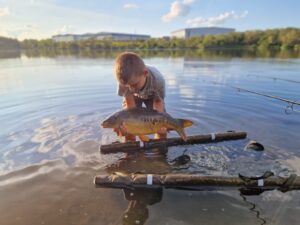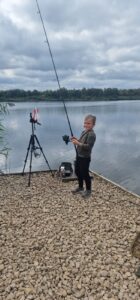 A total of twenty carp were caught, with the biggest fish being 22.8LB caught by Lee Ball.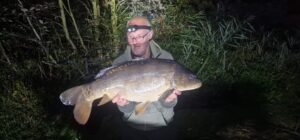 The match finished in the following order:
1. Matt Newel- 109.4LB- Peg 46
2. Scott Mancicius- 47.4LB- Peg 49
3. Martin King- 34LB- Peg 6
4.Lee Ball- 32.8LB – Peg 45.
5.Lee Gibson- 15 LB- Peg 37
Congratulations to Matt Newel on winning the match, fishing an peg on Kingswood that he has never fished before. Matt walks away with £80 and the other £100 goes to the clubs chosen charity, The Prostrate Cancer UK.
A big thanks to Aaron Holmes and Dan Startin, our two new bailiffs, who camped on the pool overnight to help weigh and record the weight of the fish, which meant no fish were retained, if needed they were treated with carp care, scanned, weighed, quick photo and straight back in the water.
Spencer was also going around recording anglers playing fish and returning them to the water. This competition took place on trail basis and everything went smoothly, alot of feed went in the water, fish were treated for previous wounds, fish were scanned to keep the clubs chipping records up to date, money was raised for charity. Most importantly memories were made with laughter and smiles all around. We will be running a competition sometime in October for day members. It will be a twenty four hour match on Calf Heath Reservoir, Where we use the same template £10 entry fee, with half the money going to the winner with the most weight and half the money going to The Prostrate Cancer UK Charity. A message will be sent through clubmate in coming weeks on how to enter. I hope all the anglers that fished the match enjoyed themself and we look forward to the next one!
Tight Lines
BPAS.