Calf Heath Match Result 20/05/23
In form Ashley Poxon took the honours at a near sell Calf Heath on Saturday, drawing peg 79 Ash decided on a predominantly pole approach.  The decision paid dividends as he netted both quality Bream and Skimmers for an unassailable 59lb 10 oz. Nev Bailey jnr secured second spot from peg 54 on the point and took it to his old man in the process who was on the next peg Method feeder fished at 45m accounted for 12 Bream topped up with a few skimmers and a Tench for a pleasing 43lb 13oz. Mick Tonks completed the frame with 42lb 12oz from peg 77 on the tins with both feeder and pole doing the damage.
The Reservoir fished  extremely well with good weights in most areas as endorsed by the section winning weights.
Section Winners..
Jordan Hall.            40lb.         (Peg 6)
Kevin Tipton.          30lb          (Peg 43)
Matt Derry.             28lb 4oz   (Peg 50)
Nev Bailey Snr.      29lb.         (Peg 52)
Simon Twadell.     18lb 13oz  (Peg 65)
Brian Nicholls.        30lb 12oz  Peg 78).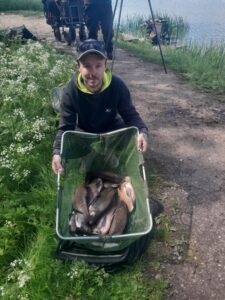 Regards….